The Norfolk P.A.T. inspector
REEDSAFE
- SERVICES
Reliable, trustworthy, experienced. Good old fashioned values in a modern world

PAT inspection of 240 volt
appliances
This is quite likely the most common style
of appliance you will have in your office or
shop environment. We can test and
inspect all types of 240 volt equipment
from fan heaters to computers, disco
equipment to washing machines, bottle
fridges to glass washers. During the test
we will inspect the plugs, flex, casing and
general suitability of the appliance for the
task it is performing in the environment
where it is located. The appliance is then
connected to our calibrated test
equipment and the electrical readings
recorded.
PAT inspection of 110 and 415 volt
appliances
Reedsafe are regularly instructed to test
site tooling that operates at 110 volts. (If
you are new to this, that would be the
yellow connector pictured) We can inspect
all site style equipment whether you are a
contractor or site operator. We test for
many self employed electricians,
carpenters, plumbers, builders also
construction sites. All we ask for on site is a
safe, dry environment for us to work in.
As pictured, you will also see we carry a
range of adaptors for inspecting 415 volt
appliances too.
PAT inspection of interconnecting
leads and extensions.
Reedsafe use specialist equipment that
can also test your mass of extension leads!
These days we never seem to have
enough sockets under our desks so it is
quite common to find a multitude of these
multi-way leads in use. Whilst performing
the inspection at your premises we will
check for over loading and offer advice on
the safe use of these leads if required.
In addition to extension leads and reels,
we can also check the leads that connect
your computers to the socket.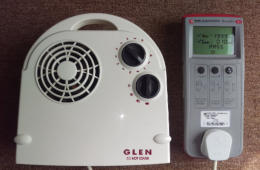 Temperature verification
Reedsafe are often instructed to visit
public houses, restaurants and hotels to
inspect the electrical appliances listed on
an inventory pending sale or transfer to a
new operator. One of the checks we
perform during these visits is a check on
the operating temperature of fridges,
freezers, ovens and fryers. This test is not
a requirement for PAT inspections but is
useful to determine if a refrigeration unit
is performing well or a fryer is likely to
overheat. It can also be useful to check
the accuracy of a thermostat.
Microwave emission inspection
Reedsafe use the Robin TX90 microwave
emission testing kit to verify safe
operation of both domestic and
commercial microwave ovens. This can be
booked as a stand alone service however,
when we are visiting your site to
undertake your PAT inspection, Reedsafe
perform this test as part of the service
and at no extra charge!
Using the beakers pictured, we can also
verify the output power of your ovens to
ensure they are running at peak
performance.
Socket verification
Reedsafe will perform a visual inspection
of all sockets your appliances are
connected to whilst performing the PAT
test at your premises. This is a free visual
check that is listed as a requirement in
our Code of Practice for inspection and
testing. We are simply looking for
evidence of over heating or damage.
For an additional fee, we can also connect
our test equipment to the sockets to
verify correct polarity.
Let us know if you would like this
additional service when making your first
enquiry with us.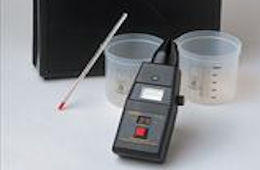 Reedsafe are proud to support Dawns New Horizon Community Shop.
DNH are based in Sprowston, Norwich and offer support and advice to victims and survivors of Domestic abuse and violence.
If you are visiting Reedsafe, why not call in to the shop whilst you are passing? For more information,
click here.